2DIAL4.COM
2THEFULLEST.com
99CENTSALE.BIZ
99SCENTSALE.COM
ACHIEVEMENTTESTS.INFO
AMERICANTWITTER.COM
ASIACHEAPLY.COM
ASIALLIANZ.COM
BLOGNOGGIN.COM
CAMPBAKERSFIELD.ORG
CAMPPDX.COM
CANADACHEAPLY.COM
CAPITAL4.BIZ
CARS247.BIZ
CHATTERMATES.COM
CHEAPERGRUB.COM
CHEAPTWILLS.COM
CHINALLIANZ.COM
CLICHEVILLE.COM
CLICKIFYOULOVECHEESES.COM
COLOSSALLY.NET
CYBERSAAVY.COM
DEBTRXLEIF.COM
DIGITALLIANZ.COM
DINEROBOT.COM
DOGSPDX.COM
DOWNWORD.COM
DRUGGIST24.COM
DRUGSOLD.COM
DRUGSURF.COM
FARMMERCE.COM
FINANCIALLIANCE.COM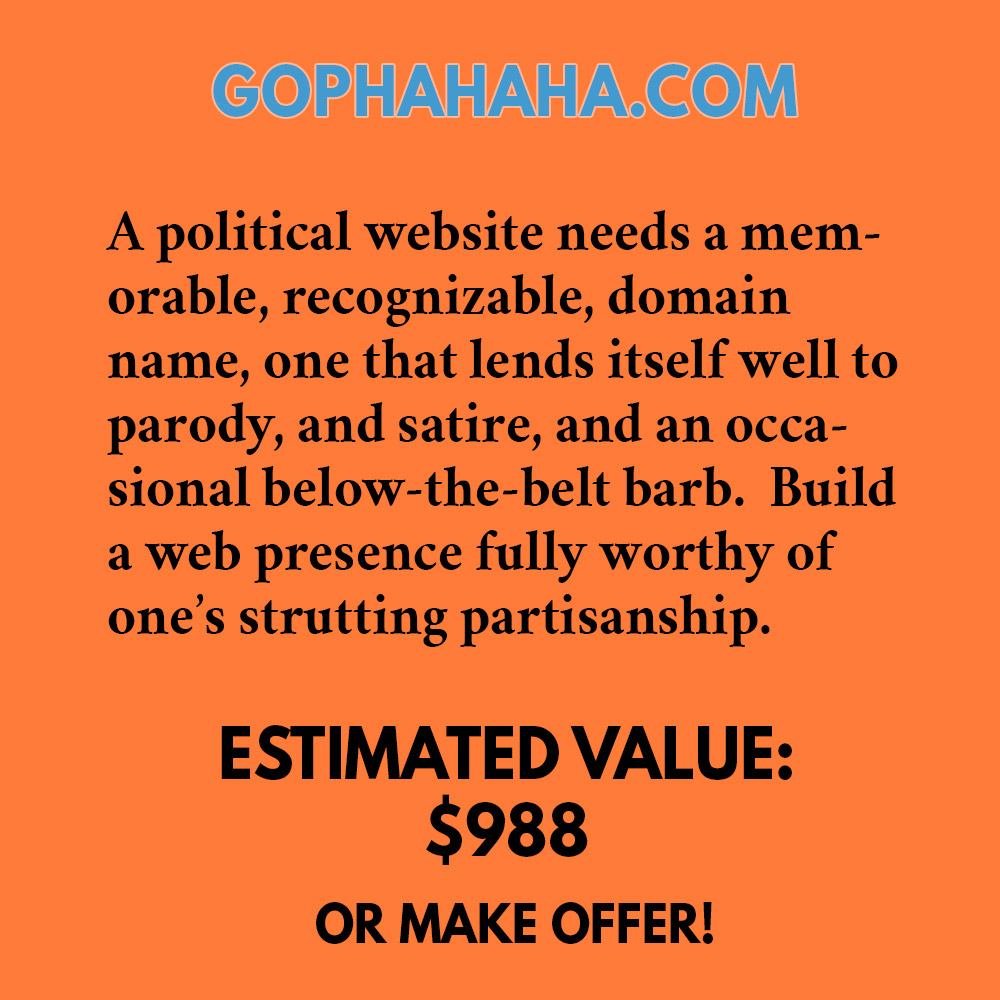 GOPHAHAHA.COM
HELLO2CHINA.COM
HOLIDAYODYSSEY.COM
HONGKONG2TRADE.COM
KEEPOREGONODD.COM
KOREALLIANCE.COM
LAST4DIGITS.COM
LIBERALLIANCE.COM
MEXICORAMA.COM
MUTUALLIANCE.COM
OL2EU.COM
OL2H.COM
OPEDPAGE.INFO
PARODYANIMAL.COM
RxDRUGSDIRECT.COM
RxDRUGSTOREONLINE.COM
SAVETHE.US
SEEPDX.COM
SHOPPING247.INFO
STREETOPTIONS.COM
TOURONTHECHEAP.COM
TRAVELHERENOTTHERE.COM
2DIAL4.COM
With PC to PC and general telecommunications coming to the mainstream fast and hard, this name is a fun play on 'to die for' that could be very effectively branded. It's ready! Are you? 
2THEFULLEST.com
Any business or related that savors the value of 'living life to the fullest' will value this domain name. Quite the positive, inspiring domain name to start your business day with. One-of-a-kind! 
99CENTSALE.BIZ
The title says it all! An attractive domain name created to capture a fraction of the lower-end of a vast retail market. This domain name is very much along the lines of a 'slam dunk,' given the economy. 
99SCENTSALE.COM
A fun play on a familiar phrase for a fragrance retailer or related. If you think you smell a great bargain, don't hesitate! Perfectly suited for this world of value-oriented e-business. 
ACHIEVEMENTTESTS.INFO
The site for resourcing information available to parents and others for assessing the value and validity of today's achievement tests. A pointedly service-oriented domain name. 
AMERICANTWITTER.COM
A solid 'twitter handle' for an online blog or information-oriented website. Singular and palpably dramatic. Exudes a raw intensity and a warm inclusiveness. What are you waiting for? Tweet away! 
ASIACHEAPLY.COM
See Asia on the cheap! That is the prominent motif associated with the launching of an AsiaCheaply.com online start-up. Couldn't be more perfect for a Asian budget travel site. 
ASIALLIANZ.COM
A powerful name for any business venture associated with Asia, China, Global Trade and/or B2B. Let's go places! Who knew your company moniker could look so good for oh so little? We confess. 
BLOGNOGGIN.COM
Whimsical, memorable domain name relevant to a myriad of blogging activities and goals. Scores well in the category of 'rival-topping' Internet address. A subtle reminder that the universe still loves us. 
CAMPBAKERSFIELD.ORG
A perfect name associated with a nonprofit camp for kids. Or with an eye towards providing campers with an outdoors experience on the outskirts of town. Different domain name. Different results. 
CAMPPDX.COM
A name that will attract the very young and the no longer very young. With a relevant domain name you get lasting results that leave you feeling satisfied. Comfy, but not costly. 
CANADACHEAPLY.COM
Offer your clientele the affordable tour of Canada's best attractions, at an affordable price. Pack your bags with holday-destination travel essentials, beginning with this exceptional domain name. 
CAPITAL4.BIZ
This is a superb moniker for a venture capitalist, a bank lending money to start-ups, or a related need. It's a simple equation: Logo + Business Model + Domain Name = Launch! Question what's possible. 
CARS247.BIZ
Drive away with this standout Internet address. Today! DNLab will change the way you think about domain names. For the better. This one is especially designed to flat-out go the extra mile for you. 
CHATTERMATES.COM
Domain names are the new drivers for global growth and cross-border connection. What you seize is what you get! What you get here is a shot at becoming an online contender. 
CHEAPERGRUB.COM
The upside of a name change often includes a moniker easier to remember, and/or the rejuvenation of a brand. Avoid rookie errors like bad web design, offkey marketing, or an ill-fitting domain name. 
CHEAPTWILLS.COM
A very fun and hard to forget name that could be successfully branded for an online clothing retailer. From the cutting room to the showroom. A wonderful domain name choice. Really! 
CHINALLIANZ.COM
CLICHEVILLE.COM
Every nation has its collection of cliches. Clicheville.com could serve as a running repository of our most popular cliches. Cliches are often employed for comic effect. So here is your 'ace-in-the-hole.' 
CLICKIFYOULOVECHEESES.COM
A benign take-off on 'honk if you love Jesus,' this domain name is for cheese lovers around the globe, and around the corner. Off the beaten path you'll find the exceptional . . . and the affordable. 
COLOSSALLY.NET
An excellent name for a multitude of branding possibilities. An ideal companion to the .COM, though it could be successfully branded on its own merits. Become an online force to be reckoned with. 
CYBERSAAVY.COM
Ideal for any online service provider, or related. A memorable domain name can help your business become more efficient and more profitable. Cyberpower on demand. 
DEBTRXLEIF.COM
An ideal name solution for the company that addresses debt reduction and related financial matters. Whether it's the national debt, or the personal need for a bailout: a sparkling Rx Internet address. 
DIGITALLIANZ.COM
Perfect Web address offering integrated brand communications across all digital channels. Digital brand management. So 21st Century! If your bottom line includes climbing to the top, we can assist you. 
DINEROBOT.COM
A highly brandable domain name for a currency/venture capital search bot site. A powerful, flexible, highly intelligent solution to lead you and your business farther. And own the road of your choosing. 
DOGSPDX.COM
Taking 'bow-wow' to a higher level. Limited quantity. Unlimited possibility. Dogspdx.com is the kind of ode to the enterpreneur that you hope comes along. The best domain names bring out your A game! 
DOWNWORD.COM
Already the title of a children's reading game, this name is open to further/broader branding in the same market. A name that could help redefine the online books industry. 
DRUGGIST24.COM
Smart domain name for a pharmacist or retailer of medicinal drugs, or for that person who owns or manages a drug store. Pill pushers need to push product along both online as well as offline channels. 
DRUGSOLD.COM
A simple online pharmacy or related resource site name. Companies have spent so much more energy acquiring customers than figuring out how to serve them individually. This name can help. 
DRUGSURF.COM
An image-packed name for a site focusing on price comparison for prescription medicines. This e-name doesn't just create a website. It brings buyers and sellers together in a huge market. Huge. And very accessible. 
FARMMERCE.COM
To offer farm supplies. To sell farm produce. To direct market agricultural products. All in a day's work with this solid domain name. Own the online farm store, and watch your business grow like a weed. 
FINANCIALLIANCE.COM
Financialliance.com suggests a partnership among the participants in mutual financial deals, whether its at the loan end or at the borrowing end of the business spectrum. Powerful company moniker!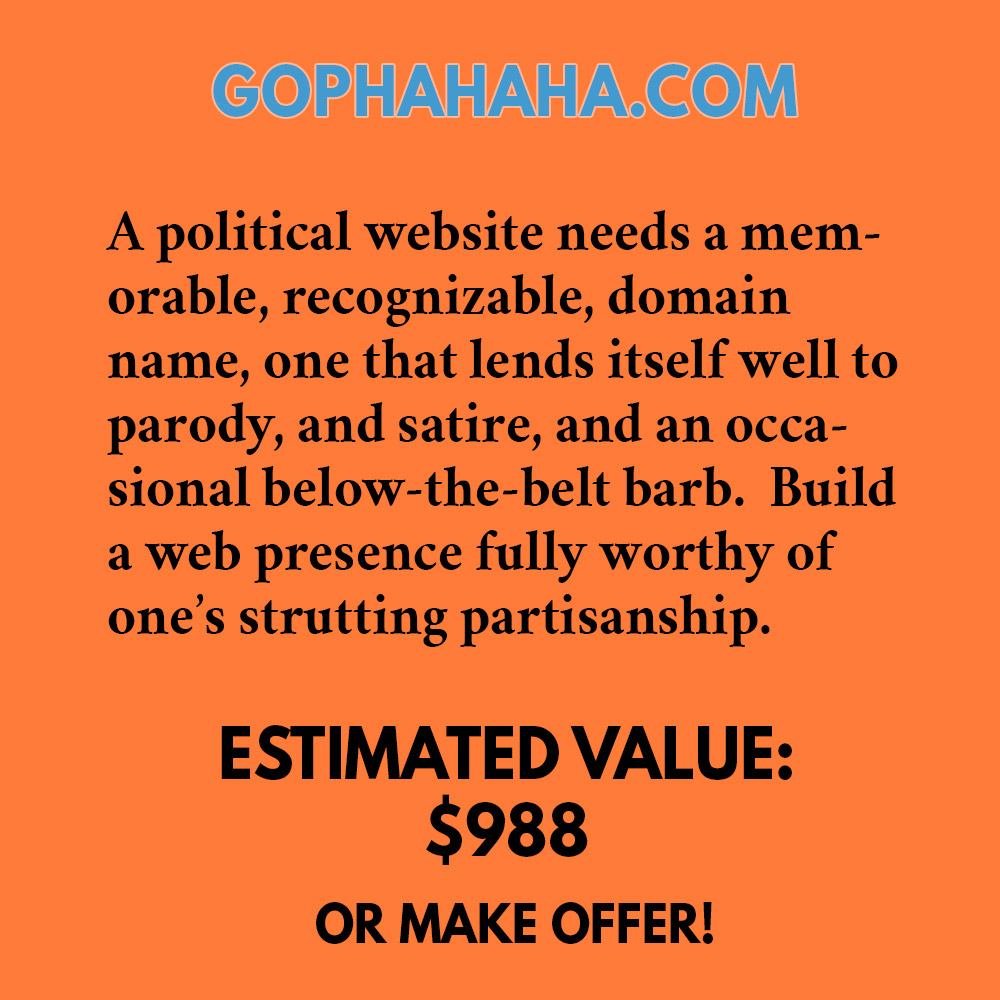 GOPHAHAHA.COM
A political website needs a memorable, recognizable, domain name, one that lends itself well to parody, and satire, and an occasional below-the-belt barb. Build a web presence fully worthy of one's strutting partisanship.
HELLO2CHINA.COM
A premiere domain name for a telecom, trade, or travel enterprise. A fully integrated Web address enabling you to manage your business relationships from supplier to employee to customer. 
HOLIDAYODYSSEY.COM
Grabs you by the lapels like a cool getaway Internet address should. You want to be a success in all Departments, including just the right domain name for your travel firm or holiday hideaway. 
HONGKONG2TRADE.COM
Provide a useful conduit for information and communication relating to trade with Hong Kong. The U.S. trade with Hong Kong was the largest of any U.S. surplus in 2011. Discover. Acquire. Launch. 
KEEPOREGONODD.COM
A parallel to the well-known 'Keep Oregon Weird' refrain, this Web name gives full play to the oddities that comprise the quirky in Oregon. Fun to fancy. The Good, the Bad, and the Uber. 
KOREALLIANCE.COM
Just the right Internet address to initiate the launch of a Korea-oriented enterprise. Hard to tell which domain names will become emblematic and influential. But take a hard look at this contender. 
LAST4DIGITS.COM
'Last four digits' is a phrase laced throughout our culture. People are familiar with this notation, either in terms of usage per zip codes, social security number, or credit cards. Handy company handle, indeed. 
LIBERALLIANCE.COM
Liberalism is a political philosophy or worldview built on ideas of liberty and equality, and opposed to the notions of hereditary privilege, state religion, and absolute monarchy. Form a progressive coalition! 
MEXICORAMA.COM
A super marketing Internet address for all things Mexican. This resonant domain name links the everyday with the more exotic with virtuoso connectivity. Penetrate the complex global marketplace. 
MUTUALLIANCE.COM
This easily remembered Web name can be utilized by any organization emphasizing mutuallity, alliance, and co-op features. Success often results from a cocktail of technology and mad money. 
OL2EU.COM
A powerful acronym of: 'Online to European Union.' A strong online presence spells institutional clout! At home and abroad. Wherever your company may be in the business life cycle, there we are. 
OL2H.COM
Online to Hotels? Online to Hawaii? Online to Homes? A solid domain name can bring additional digital muscle to existing businesses, whether local, regional or global. 
OPEDPAGE.INFO
An Op-Ed page (abbreviated from 'opposite from' the Editorial Page) expresses the opinion of a named writer not on the Editorial Board. A purchase is made and suddenly the world around you is no longer the same! 
PARODYANIMAL.COM
This domain name is awesome for the humorist or comedian who is really into spoofs, send-ups or lampoons. Parody Animal! This acquisition puts the owner at a decided advantage over his/her rivals. 
RxDRUGSDIRECT.COM
Intuitive and descriptive. Ideal for any medically related business. The medical field represents a large portion of e-commerce growth. Provide your customers with 21st Century discount drug access. 
RxDRUGSTOREONLINE.COM
A powerful drugstore site easily brandable and instantly identifiable. At DNLab, we're reinventing the world of domain names. Are you internet-ready? We can help you with that! 
SAVETHE.US
There are many today who worry whether we can save the USA from itself, especially in respect to Congressional politics. A really relevant domain name is no secret. It announces your presence. 
SEEPDX.COM
Every great city is made manifest by an intelligent city guide to the best restaurants, attractions and events. You could be that guide vis-a-vis Portland. Stay one step ahead of the crowd. 
SHOPPING247.INFO
Help shoppers locate and purchase products across online and brick and mortar retailers. The future of shopping. Unlock your wish! Lock up this domain name. Good things come to those who don't wait. 
STREETOPTIONS.COM
Brandable beyond Wall Street. Widen your avenue to the future. A good Web name grants access to information and people critical to New Economy investing. Forget the techno-hype. This may be it. 
TOURONTHECHEAP.COM
A tour de force among affordable travel domain names! Says exactly what it means. What say you? Domain Name Lab is dedicated to shaping the global future of travel synergy, one fine name at a time. 
TRAVELHERENOTTHERE.COM
Someone knowledgeable needs to make the call as to the next best thing in travel destinations. That would be you. Our focus is on turning discoveries into solutions, with an emphasis on start-ups and small businesses. 
1
2
3
4
5
6
7
8
9
10
11
12
13
14
15
16
17
18
19
20
21
22
23
24
25
26
27
28
29
30
31
32
33
34
35
36
37
38
39
40
41
42
43
44
45
46
47
48
49
50
51
52
53
54
55
56
·
·
·
·
·
·
·
·
·
·
·
·
·
·
·
·
·
·
·
·
·
·
·
·
·
·
·
·
·
·
·
·
·
·
·
·
·
·
·
·
·
·
·
·
·
·
·
·
·
·
·
·
·
·
·
·